FE World of Marine Technologies

Scrubber technology
Our SOx scrubber for ships utilizes cleaning technologies
and is the result of our extensive experience in fuel cell
development and geothermal power generation.
Electrostatic technology
Based on our electrostatic technology for tunnel ventilation
systems, we are currently developing an electrostatic
precipitator for ships.
Measurement and analytical technology
The technology behind our laser gas analyser for ships is a
product of our experience in developing air pollution
monitoring and measurement equipment for industrial plants.
Heat recovery technology
The technology and experience we have accumulated through
our efforts in geothermal power generation plants serve as
guides for the development of our heat recovery technology and
energy-saving systems for ships.
Control technology
At Fuji Electric, we offer a range of total solutions for factory
automation systems: solutions that achieve energy savings and
support efficient manufacturing processes.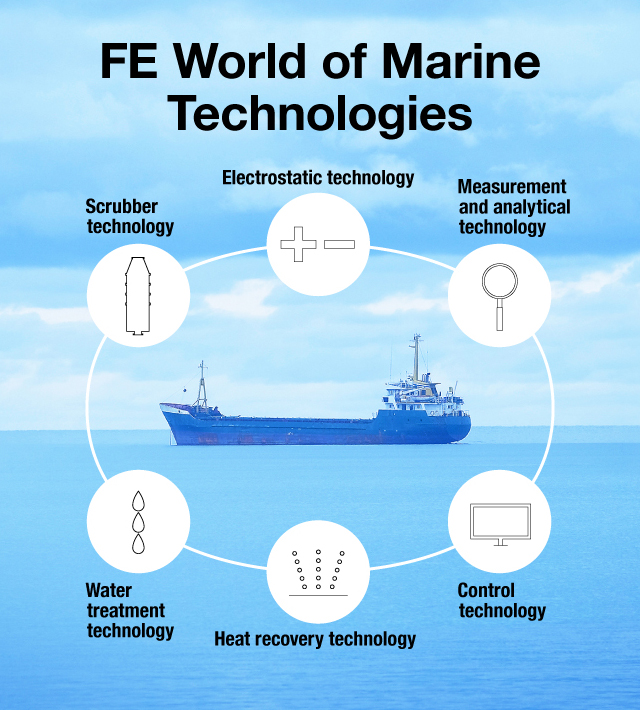 In such ways as scrubber technology, electrostatic technology, measurement and analytical technology, water treatment technology, heat recovery technology, and control technology, we at Fuji Electric have enhanced our core areas of expertise. These are all the results of decades of experience with our research and development efforts with land-based technologies. Now, we are re-applying our core technologies and expertise from the land to the sea. Through optimal integration of proprietary technology and other products and technologies, Fuji Electric has created a new value-added solution for ships.